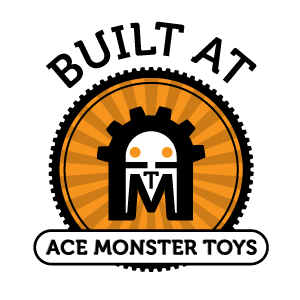 I have two cats, and cats love to climb stuffs, and hide in boxes. So I wanted to build them some kind of furniture. It had to look good (because of the WAF), and it was a good opportunity for me to learn about basic woodworking and using AMT's CNC router. I learned about the basic usage of the CNC router during a class hosted at AMT and building my own project was a good opportunity to put that knowledge in practice. Learning things like the fact that a plywood sheet is not flat and you have to account for that in your margin error can be a bit challenging at first.
Woodworking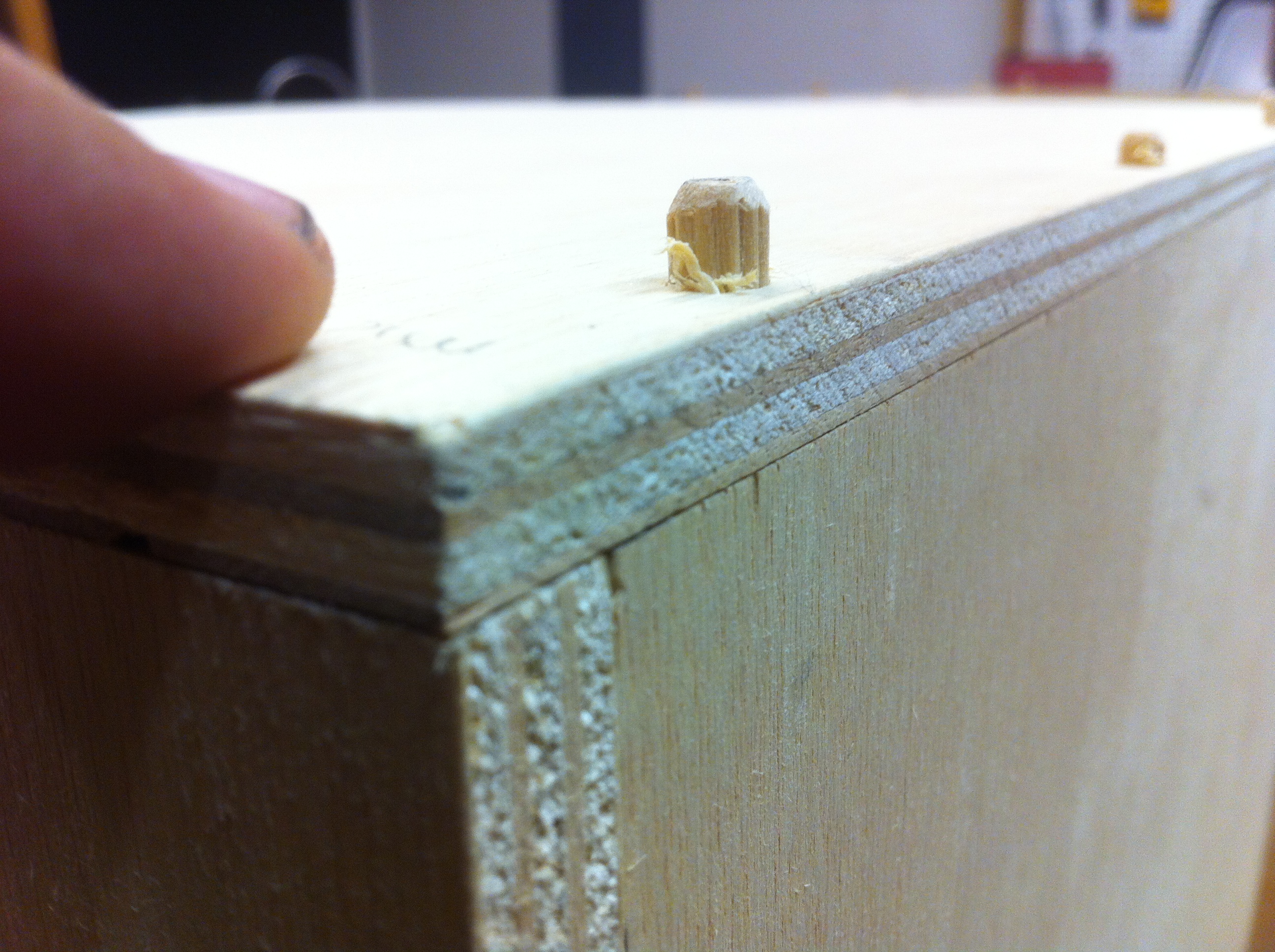 Ensuring that the corners are all aligned. Not too bad for my first time. I didn't really know how to ensure that the edges of each corners would be aligned, and I have to thanks Chris (aka Sullimech) for sharing his knowledge on the topic. This is one of the things that I really like about Ace Monster Toys : everytime I was about to get stuck on a project, someone was around and stepped in to help or teach me something. Learning is great.
The assembly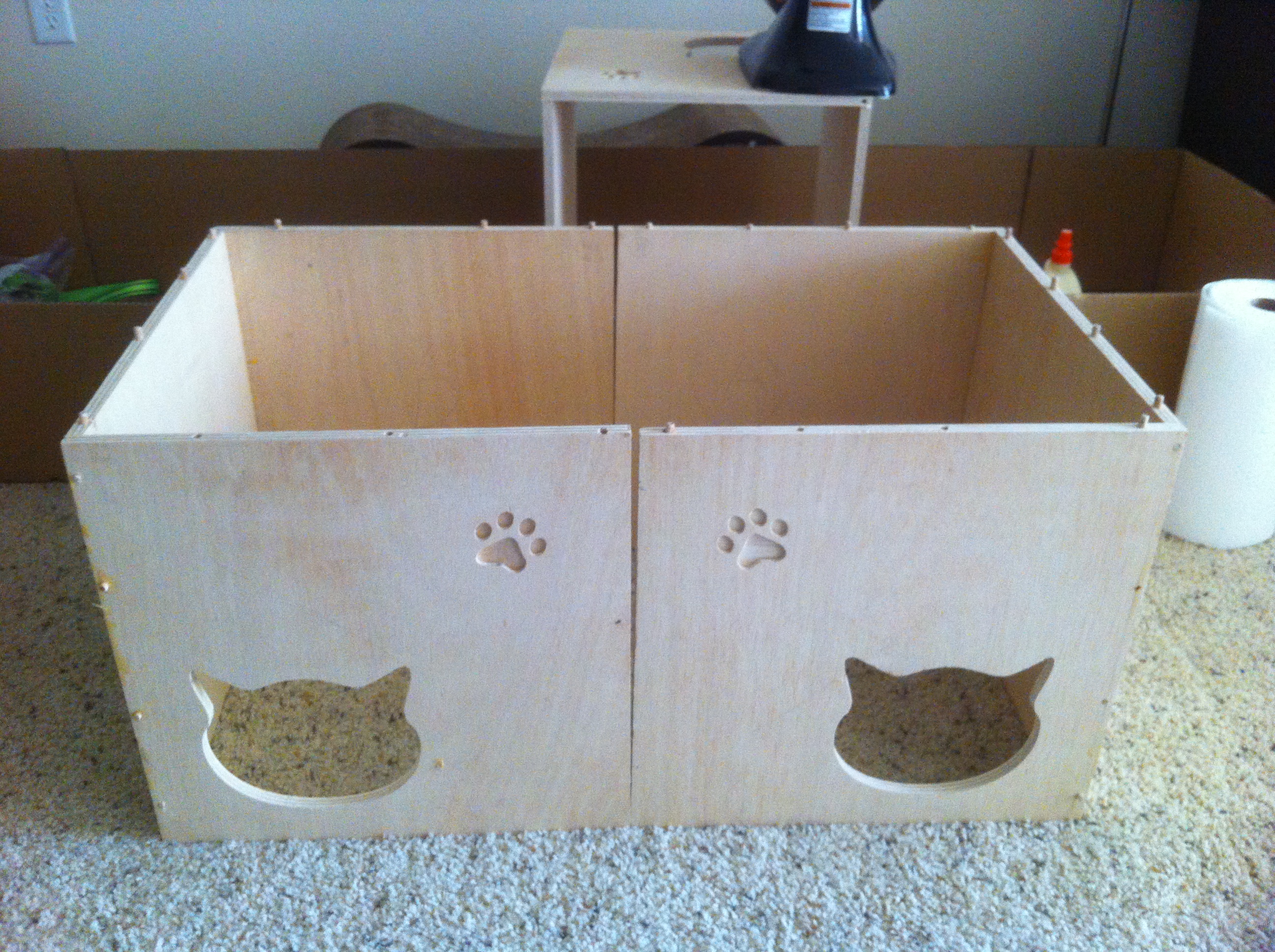 Assembling the boxes. The furniture itself is an assembly of boxes in staggered rows. The bottom part and each vertical panel are tied together using wood pins and glue. On each panel, there is a hole shapped like a cat head, and a paw print, carved using AMT's large CNC router. The cat head allows the cats to hide in a box and play with someone outside. At first I was planning to paint the inside of the paw print, but eventually I liked the raw wood effect.
The pole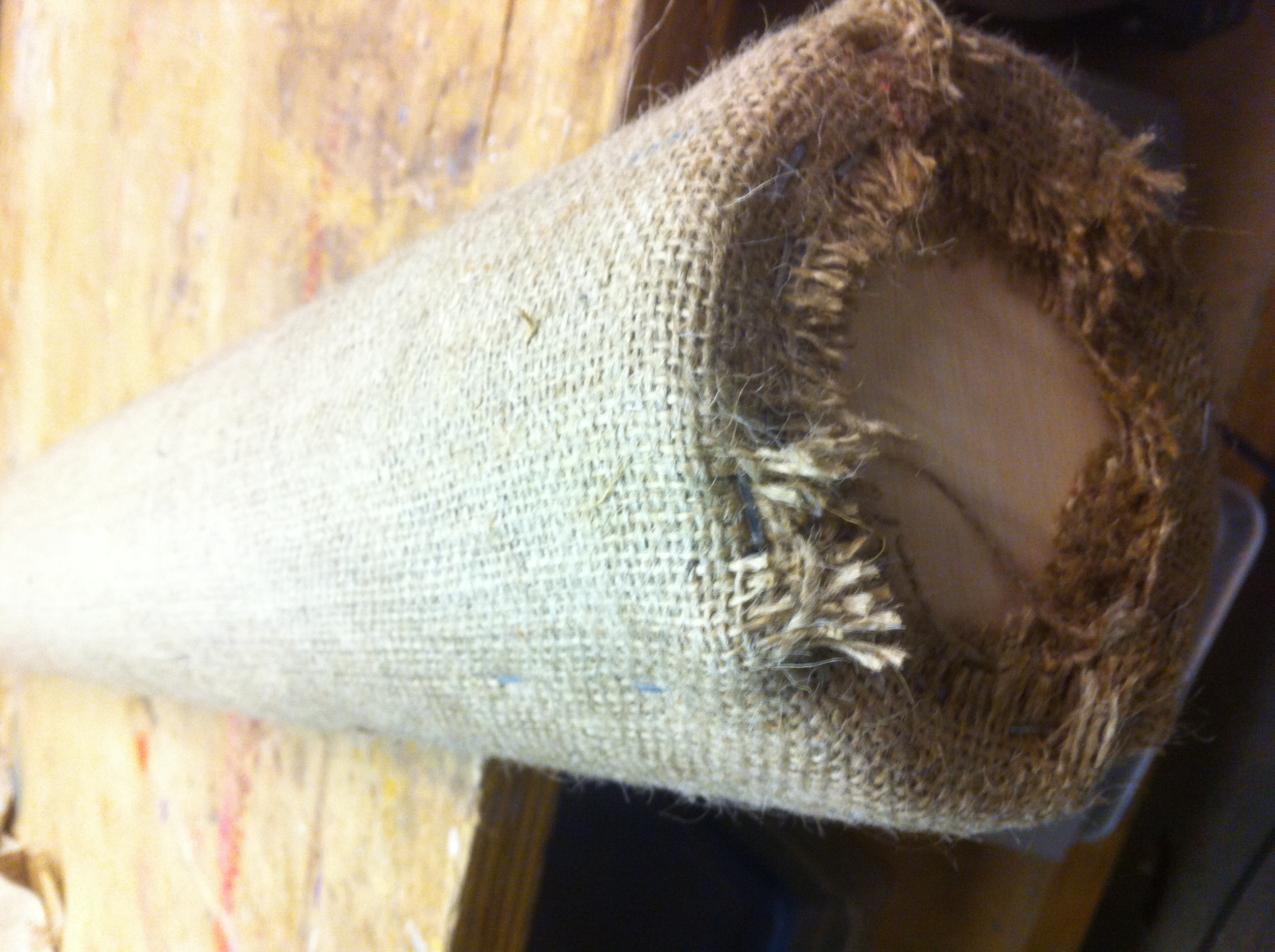 The pole has two purposes : Provide some kind of balance, ensuring that the top platform does not bend, and provide a big scratchpost that the cats can climb. It's simply a strong cardboard pipe, that I got for free from Home Depot (it's the pipe that the carpets they sell are wrapped around). I glued some hessian on it, and wrapped several layers of it for durability. It allows the cats to do some exercise, and it's also really good for them to wear off their claws since they are indoor cats.
Quality control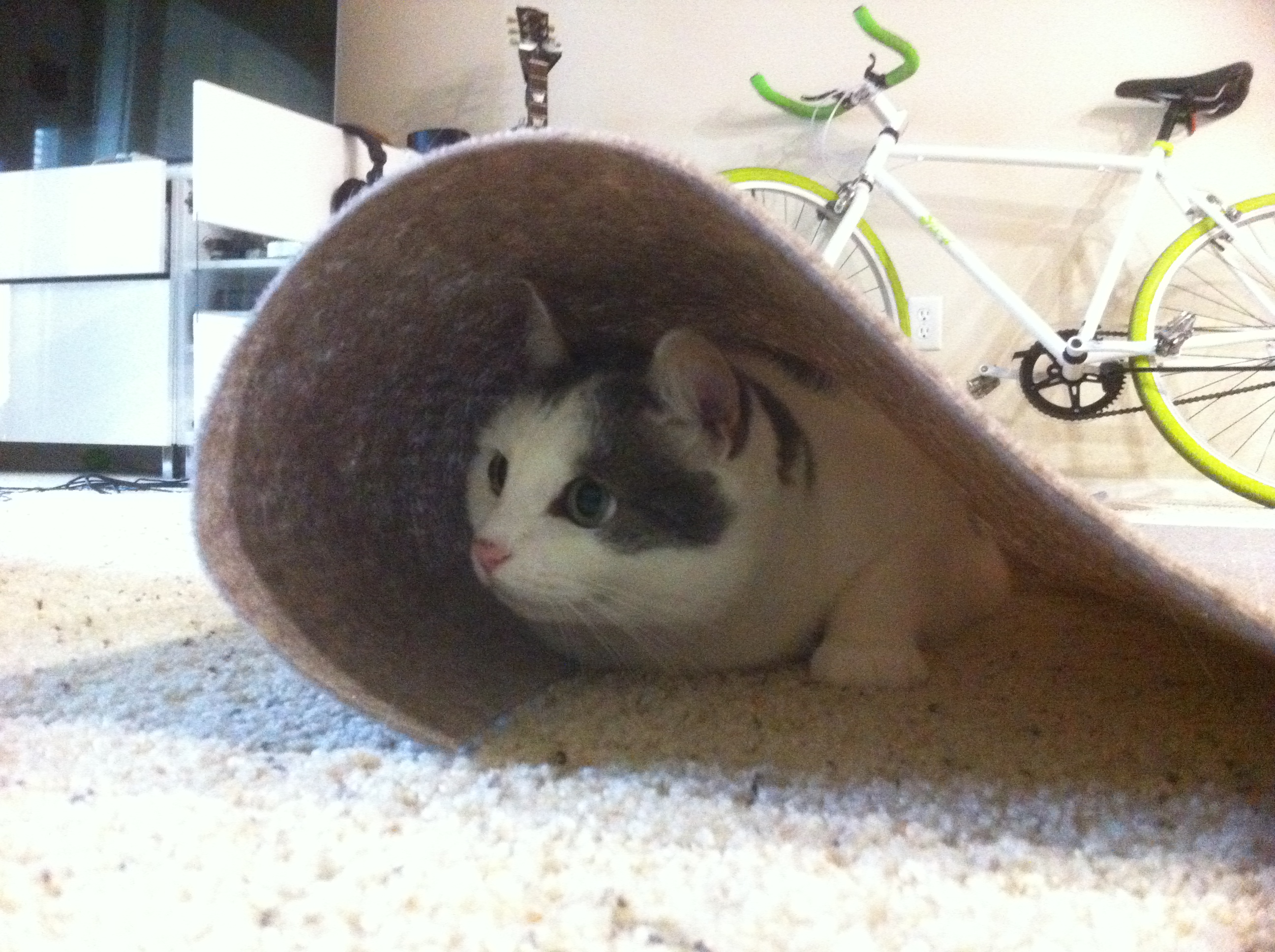 Nala inspecting the quality of the carpet that will be used for the floor of each level. Because cats love to sleep in semi-closed spaces, each block can serve as a cosy place for a good nap. So to make it comfy (and better looking) each level has some carpet on the floor. The carpet is held in place using double-sided adhesive, that makes it easy to remove them if they need to be cleaned or replaced.
Final inspection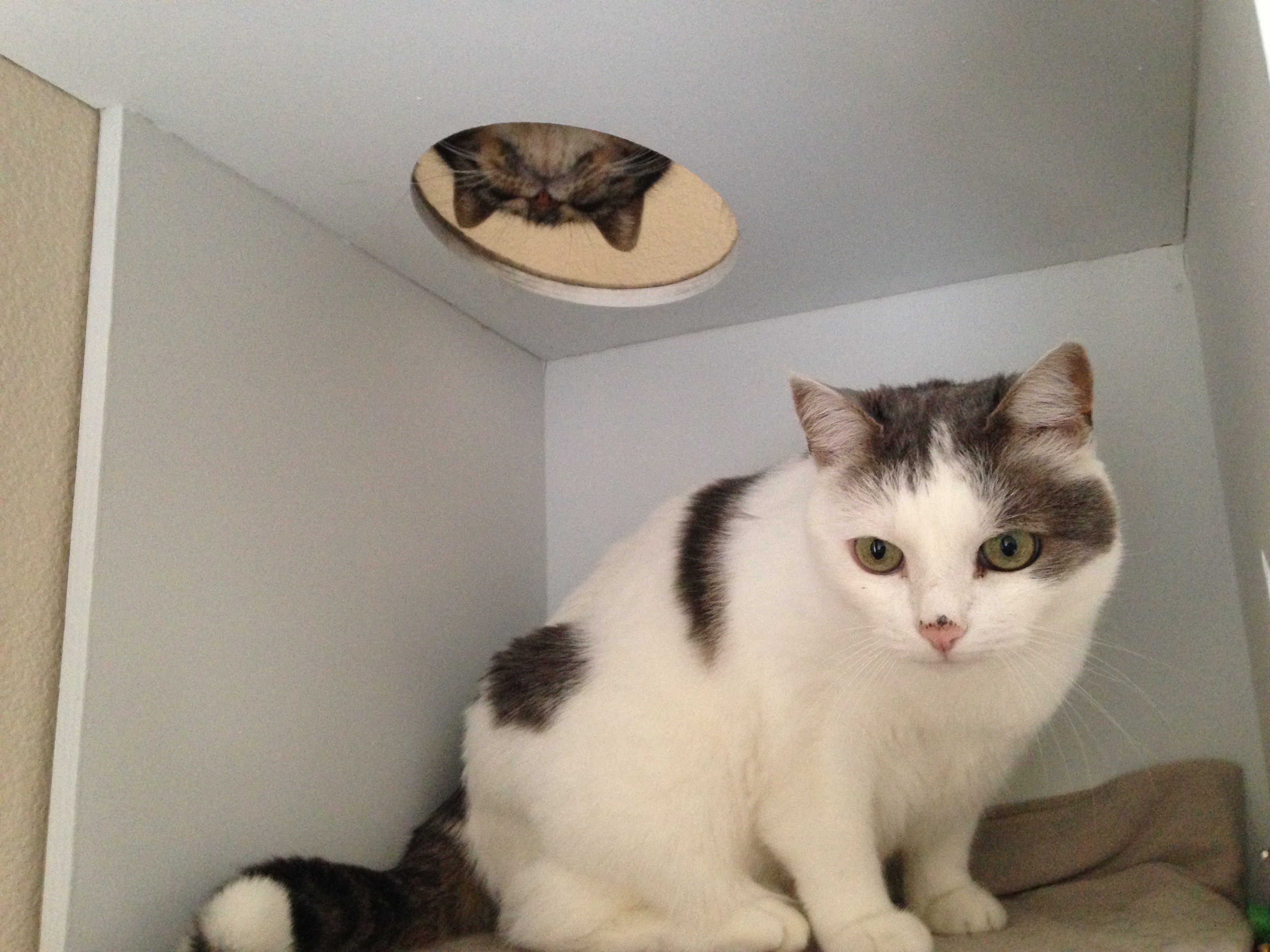 The customers are inspecting the place. New smells, new hideouts. This looks fun!
There is a hole in each platform that allows the cats to quickly jump from a platform to the lower or upper one. Usually they go up via the pole, up to the top platform or the one right below it, and down via the holes. Really funny to watch.
The result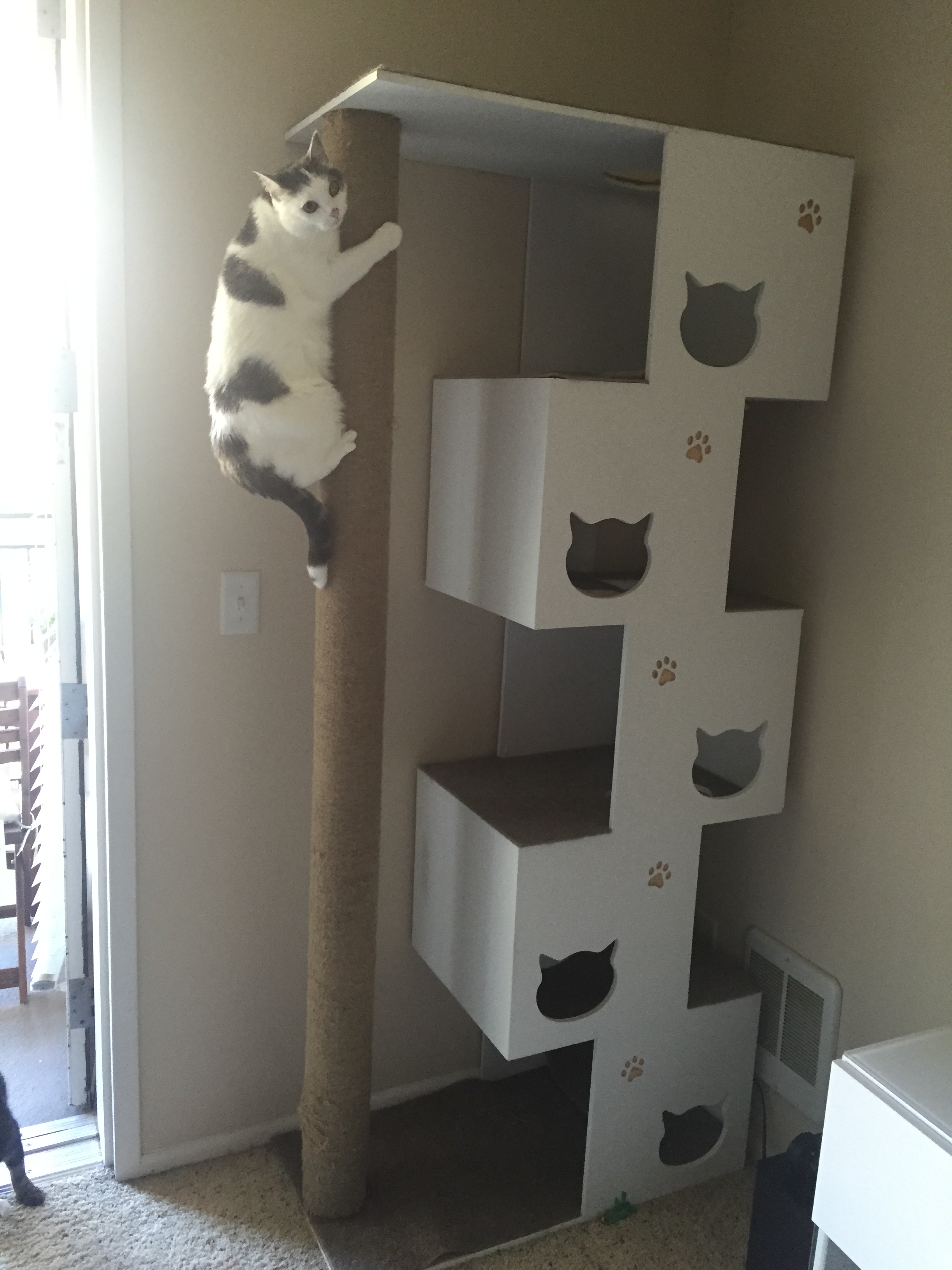 Finished! I built this project last year, and not a day goes by without my cats hanging out on it, taking a nap, or fighting for the best spot (the top platform). It's usually funny to watch, as they will race each other across the room, and climb the pole in less than two seconds.
Overall this was a really interesting build. I'm really satisfied with the result. It looks great, is functional, and my cats love it!